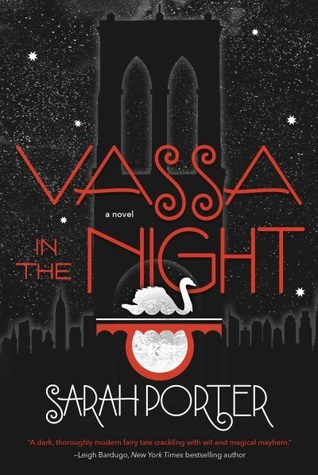 Summary: In the enchanted kingdom of Brooklyn, the fashionable people put on cute shoes, go to parties in warehouses, drink on rooftops at sunset, and tell themselves they've arrived. A whole lot of Brooklyn is like that now—but not Vassa's working-class neighborhood.
In Vassa's neighborhood, where she lives with her stepmother and bickering stepsisters, one might stumble onto magic, but stumbling away again could become an issue. Babs Yagg, the owner of the local convenience store, has a policy of beheading shoplifters—and sometimes innocent shoppers as well. So when Vassa's stepsister sends her out for light bulbs in the middle of night, she knows it could easily become a suicide mission.
But Vassa has a bit of luck hidden in her pocket, a gift from her dead mother. Erg is a tough-talking wooden doll with sticky fingers, a bottomless stomach, and a ferocious cunning. With Erg's help, Vassa just might be able to break the witch's curse and free her Brooklyn neighborhood. But Babs won't be playing fair…
Add to Goodreads
UK –  Waterstones / Amazon / Wordery / Book Depository
US – Amazon / Barnes and Noble / Target / Books a Million / Walmart
Canada – Indigo
★★★★☆ 4/5
Vassa in the Night is weird, in the way Welcome to Night Vale is weird. The citizens of Night Vale are surrounded by weird, they accept it, are used to it and Vassa in the Night reminded me of that a little with how everyone in Brooklyn accepts the weird there.
The weird in Vassa in the Night is the convenience store near Vassa's house, BY's. Not only is the store itself weird, but the owner is too. Babs, the owner, hides behind her appearance as an old lady, making her seem slow and weak, but slow and weak she isn't, she's cunning and sly, with more secrets than just the store itself.
Everyone knows about the store, knows the ad on TV and what happens to shoplifters, the warning of what happens when you're caught shoplifting is on display outside of the store for all to see, but whether they were caught stealing or were merely innocent customers, no one knows.
When all the light bulbs in the house blow, plunging Vassa and her sisters into darkness in what seems to have become nights that are getting strangely longer and longer, Vassa heads to the store.
What starts as an innocent visit for light bulbs, Vassa and her doll, Erg, a small, painted, talking, and very alive wooden doll have so much more to face than just the possible prospect of being beheaded.
A retelling of the Russian fairy tale, Vasilisa the Beautiful, Vassa in the Night is enjoyable and weird in all the right ways. From the store to the characters, I loved it all and I'm excited to read more from Sarah Porter if Vassa in the Night is anything to go by.
Did I like it? Yes
Did I love it? Yes
Would I recommend it? Definitely. If you're into the weirdness of Welcome to Night Vale, or interested in a retelling of Vasilisa the Beautiful, read it.