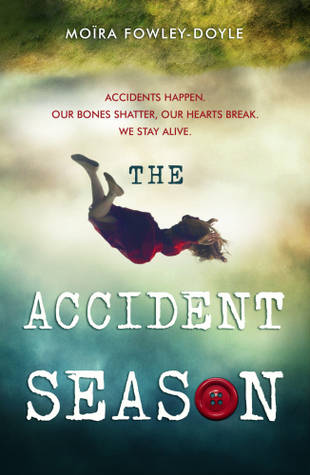 Summary: It's the accident season, the same time every year. Bones break, skin tears, bruises bloom.
The accident season has been part of seventeen-year-old Cara's life for as long as she can remember. Towards the end of October, foreshadowed by the deaths of many relatives before them, Cara's family becomes inexplicably accident-prone. They banish knives to locked drawers, cover sharp table edges with padding, switch off electrical items – but injuries follow wherever they go, and the accident season becomes an ever-growing obsession and fear.
But why are they so cursed? And how can they break free?
Add to Goodreads
UK: Waterstones / Amazon / Wordery / Book Depository
US: Amazon / Walmart / Barnes and Noble / Books a Million
Canada: Indigo
★★★★☆ 4/5
I picked The Accident Season up thinking it was going to be like Final Destination, where instead of death, the characters know they're going to be injured and have to keep an eye out for hazards to try and stop themselves getting hurt.
The Accident Season wasn't that.
Instead it was full of secrets and mystery, intrigue and even a little magic.
Cara, her sister Alice, her ex-stepbrother Sam, and Cara's mum all prepare for the accident season that happens every October as best they can, but accidents happen and injuries are suffered.
Bea, Cara's best friend predicts that this accident season is going to be the worst yet, but with what's happened in past accident seasons, can this season really be any worse?
With the accident season to worry about and then a missing school friend, Cara learns there's more to the accident season than she first thought, more secrets to uncover and more to her family's past.
With just a hint of magic mixed with Fowley-Doyle's writing, The Accident season is a strange and enticing read I thoroughly enjoyed. Its story had me reading in anticipation of more secrets and then eventually truths with a plot twist I only just saw coming towards the end. One to add to my favourites and an author to keep an eye on.
Did I like it? Yes.
Did I love it? Yes.
Would I recommend it? Definitely. If you want a quick read shrouded in secrets and a little mystery, read it.