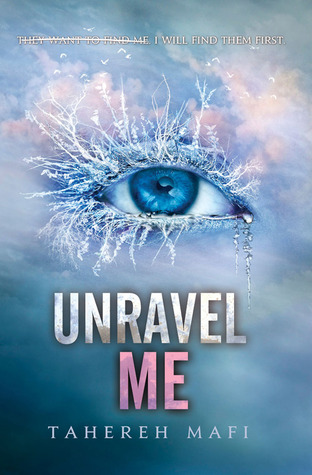 Summary: tick
tick
tick
tick
tick
it's almost
time for war.
Juliette has escaped to Omega Point. It is a place for people like her—people with gifts—and it is also the headquarters of the rebel resistance.
She's finally free from The Reestablishment, free from their plan to use her as a weapon, and free to love Adam. But Juliette will never be free from her lethal touch.
Or from Warner, who wants Juliette more than she ever thought possible.
In this exhilarating sequel to Shatter Me, Juliette has to make life-changing decisions between what she wants and what she thinks is right. Decisions that might involve choosing between her heart—and Adam's life.
Add to Goodreads
UK – Amazon / Book Depository / Wordery
US – Barnes and Noble / Amazon / Target / Walmart / Books A Million
Canada – Indigo
★★★★★ 4.5/5
Second book syndrome? Nope. Not a chance. I loved this, I loved it even more than the first book and I didn't think it was possible.
Juliette continues to grow as a character, learning about herself, her power, and the people she's now joined forces with. She discovers more about The Reestablishment and what the people of Omega Point are fighting for, that not everything is as black and white as she once thought.
At her side is her boyfriend Adam, trying to help her learn about herself and the rebels they now both are. Working together with Kenji, who escaped with them from Warner, and Castle, the leader of Omega Point, Juliette and Adam become integral members of the resistance to the Reestablishment, doing what they can to help begin bringing it down.
With some plot twists and good character development making me rethink my judgement on certain characters, Unravel Me is now up there in my favourites and was a great way to kick off 2017.
Now to finish the series.
Did I like it? Yes.
Did I love it? Yes.
Would I recommend it? Yes. If you enjoyed Shatter Me, read this. Shatter Me was just the beginning, giving just a little taste of Mafi's writing, Unravel Me shows how she just keeps getting better and better.
(I recommend reading Destroy Me after reading up to the end of chapter twenty one of Unravel Me, but it's not necessary.)