Destroy Me – Summary: Perfect for the fans of Shatter Me who are desperately awaiting the release of Unravel Me, this novella-length digital original will bridge the gap between these two novels from the perspective of the villain we all love to hate, Warner, the ruthless leader of Sector 45.
In Tahereh Mafi's Shatter Me, Juliette escaped from The Reestablishment by seducing Warner—and then putting a bullet in his shoulder. But as she'll learn in Destroy Me, Warner is not that easy to get rid of. . .

Back at the base and recovering from his near-fatal wound, Warner must do everything in his power to keep his soldiers in check and suppress any mention of a rebellion in the sector. Still as obsessed with Juliette as ever, his first priority is to find her, bring her back, and dispose of Adam and Kenji, the two traitors who helped her escape. But when Warner's father, The Supreme Commander of The Reestablishment, arrives to correct his son's mistakes, it's clear that he has much different plans for Juliette. Plans Warner simply cannot allow.
Set after Shatter Me and before its forthcoming sequel, Unravel Me, Destroy Me is a novella told from the perspective of Warner, the ruthless leader of Sector 45. 
Fracture Me – Summary: In this electrifying sixty-page companion novella to the New York Times bestselling Shatter Me series, discover the fate of the Omega Point rebels as they go up against The Reestablishment. Set during and soon after the final moments of Unravel Me, Fracture Me is told from Adam's perspective.
As Omega Point prepares to launch an all-out assault on The Reestablishment soldiers stationed in Sector 45, Adam's focus couldn't be further from the upcoming battle. He's reeling from his breakup with Juliette, scared for his best friend's life, and as concerned as ever for his brother James's safety. And just as Adam begins to wonder if this life is really for him, the alarms sound. It's time for war.
On the battlefield, it seems like the odds are in their favor—but taking down Warner, Adam's newly discovered half brother, won't be that easy. The Reestablishment can't tolerate a rebellion, and they'll do anything to crush the resistance . . . including killing everyone Adam has ever cared about.
Add to Goodreads – Destroy Me / Fracture Me
U.K. – Amazon / Wordery / Book Depository
US – Amazon / Barnes and Noble / Books a Million
Canada – Indigo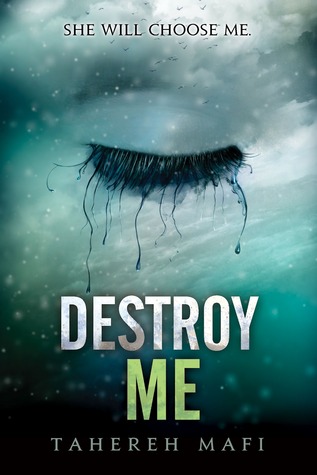 ★★★★★ 4.5/5
Destroy Me (Shatter Me Novella 1.5)
Destroy me takes place straight after Juliette and Adam have left Warner and run to safety elsewhere. We learn what Warner is doing whilst Juliette is at Omega Point with Adam learning more about her gift, his plans and the aftermath Warner has been left to deal with.
We see Warner as he truly is, a completely different person to how Juliette sees him and what he's been perceived to be. It's a nice insight into his character and well worth a read.
Like I was recommended by a friend, I too recommend reading Unravel Me up to the end of chapter twenty one and then reading Destroy Me, it flows nicely that way and there's no going back and forth or disjointedness when reading both books.
Did I like it? Yes.
Did I love it? Yes.
Would I recommend it? Yes, to get an insight into Warner and the character he really is, to find out what he's doing and his plans, read it. It's definitely worth it.
★★★★★ 4.5/5
Fracture Me (Shatter Me Novella 2.5)


Fracture me picks up from near the end of Unravel Me and continues on to the end of it, showing us Adam's side of things once they're out fighting the resistance, and then his and the others next decisions.
With Juliette gone, Adam is a different person entirely, this novella opened my eyes to him and my previous judgement on him went out of the window. The Adam I knew and liked is no more, he's changed quickly in just a few short pages and it's believable. It came out of the blue but also didn't, like some part of me was expecting him to change, but not how he did, and I liked it.
I liked the surprise and even if he's gone from a favourite character to a disliked one, I'm still glad I read it.
Did I like it? Yes.
Did I love it? Yes.
Would I recommend it? Yes. Read it, have your eyes opened to Adam to prepare yourself for Ignite Me, because I am so ready for that now and I hope this novella helps you too.