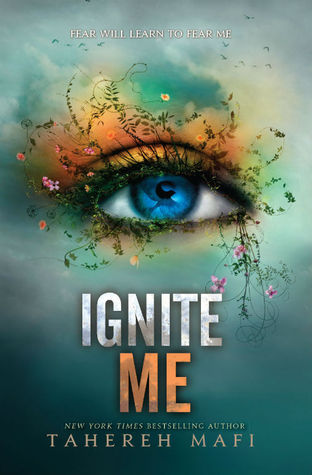 Summary: With Omega Point destroyed, Juliette doesn't know if the rebels, her friends, or even Adam are alive. But that won't keep her from trying to take down The Reestablishment once and for all. Now she must rely on Warner, the handsome commander of Sector 45. The one person she never thought she could trust. The same person who saved her life. He promises to help Juliette master her powers and save their dying world . . . but that's not all he wants with her.
Add to Goodreads
U.K. – Amazon / Wordery / Book Depository
US – Amazon / Barnes and Noble / Walmart / Books a Million /
Canada – Indigo
★★★★☆
Ignite Me picks up from where Unravel Me finished, with Juliette beginning her war and fighting against Anderson and the Reestablishment. With revenge in her heart and determined to make Anderson pay, Juliette knows what she has to do.
With her growing more confident in herself and accepting her powers, Juliette is an incredibly strong character who is ready to do what she needs to and accepting what help she needs along the way.
If you've read Adam's novella, Fracture Me, then you'll know why I'm not as fond of him as I once was, and for most of Ignite Me I continued to dislike him. He's every bit the character you turn your lip up at whenever they come into a scene, and the person that if you met them in real life, you want to be careful of and avoid.
As for Warner, he's still the same person, yet changed. He grew as a character and his and Juliette's story arc was well deserved and well written (see chapter fifty five). With more explantations behind his behaviour it's easy to see how his past actions were judged harshly, but he's still no saint and never will be, and that's okay.
Kenji is and always will be my favourite, a needed character who not only offered support to Juliette, but helped her to see the person she really is and always believed in her and what she could do.
As for the ending, I felt it lacked a little, I was expecting to know what happened after, but when I realised I was only a few pages from the end, it was clear that wasn't the ending I was in for. Which although not a bad thing, because I was expecting it and didn't get it, it left me just a little disappointed but still worthy of 4.5/5.


Did I like it? Yes.
Did I love it? Yes.
Would I recommend it? Yes. It's nicely paced and well written, a justified ending to what is now one of my favourite series.