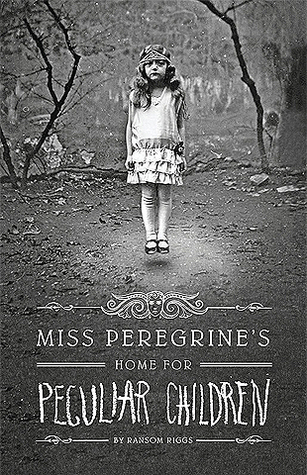 Summary: A mysterious island. An abandoned orphanage. A strange collection of curious photographs. It all waits to be discovered in Miss Peregrine's Home for Peculiar Children, an unforgettable novel that mixes fiction and photography in a thrilling reading experience. As our story opens, a horrific family tragedy sets sixteen-year-old Jacob journeying to a remote island off the coast of Wales, where he discovers the crumbling ruins of Miss Peregrine's Home for Peculiar Children. As Jacob explores its bedrooms and hallways, it becomes clear that Miss Peregrine's children were more than just peculiar. They may have been dangerous. They may have been quarantined on a deserted island for good reason. And somehow—impossible though it seems—they may still be alive.
Add to Goodreads
UK – Waterstones / Amazon / Wordery / Book Depository
US – Amazon / Barnes and Noble / Books a Million / Walmart / Target
Canada – Indigo
★★★★☆ 4/5
Sixteen year old Jacob Portman has always loved his grandfather and is close to him, he's grown up listening attentively to his stories of fighting monsters and extraordinary children, which until he started to get older he'd always believed. His grandad's stories went from exciting, thrilling tales of his grandfather's life when he was younger, to made up babble Jacob knew weren't true.
How could he believe tales of monsters that belong to nightmares, or the stories of the children in the orphanage? One girl who could supposedly fly, a boy who had bees living inside him? Even despite the photos his grandad has as supposed proof of his stories? It all seemed absurd and a figment of his ageing grandfather's imagination.
So when Jacob has a chance to visit the orphanage from his grandad's stories, Jacob and his father travel to Wales to find the answers to questions he has and to find out once and for all whether the stories his grandad told him of his younger self are true or not.
What Jacob finds there is more than just the truth to the stories, but the truth about the children he's heard so much about, the headmistress of the orphanage, and the truth about his grandad.
I unfortunately saw the movie before reading the book and so I was expecting everything that happened in that to happen in the book, which of course if you've seen the movie know that the ending is completely different. That said, I preferred the ending to the book than to the movie, in fact, I preferred the book to the movie and if I'd read the book first and then seen the movie, I'd have been disappointed.
Did I like the book? Yes.
Did I love it? Undecided.
Would I recommend it? If you haven't seen the movie, yes. Or if children with supernatural powers interest you.