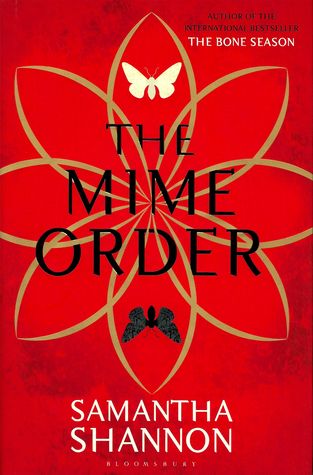 Summary: Paige Mahoney has escaped the brutal prison camp of Sheol I, but her problems have only just begun: many of the survivors are missing and she is the most wanted person in London…
As Scion turns its all-seeing eye on the dreamwalker, the mime-lords and mime-queens of the city's gangs are invited to a rare meeting of the Unnatural Assembly. Jaxon Hall and his Seven Seals prepare to take centre stage, but there are bitter fault lines running through the clairvoyant community and dark secrets around every corner.
Then the Rephaim begin crawling out from the shadows. Paige must keep moving, from Seven Dials to Grub Street to the secret catacombs of Camden, until the fate of the underworld can be decided.
Add to Goodreads
U.K – Waterstones / Amazon / Wordery / Book Depository
US – Amazon / Barnes and Noble / Target / Walmart / Books a Million
Canada – Indigo
★★★★☆ 4.5/5
The Mime Order picks up from where The Bone Season ended, with Paige and the others on the train in the middle of their escape from the colony Sheol I. With help from her gang, she now has the difficult task of getting the voyants she saved back to London and to some form of safety from the Rephaim and their clutches, but with enemies lurking and new ones revealing themselves, not everyone can survive.
Back in London Paige has so much to contend with, the survivors, the Rephaim, Jaxon and her gang, plus her own injuries she suffered whilst escaping from Sheol I. With so much to do and a lot of responsibility falling to her, Paige really grows as a character. She shifts and adapts to her leadership role, fitting into it more and more as the book progresses, learning just what sacrifices are being made and ones she has to make herself.
With some returning characters and some new, The Mime Order is everything I wanted in a sequel. With more character development, especially for Jaxon, a look into the syndicate and its members, betrayal, reveals and more, there was definitely no second book syndrome in sight.
With that ending I need to get straight to the sequel, The Song Rising ASAP.
Did I like the book? Yes.
Did I love it? Yes.
Would I recommend it? Yes, if you've read the first one and were left wanting more from Paige, the voyants and the Rephaim, read it, you won't be disappointed.