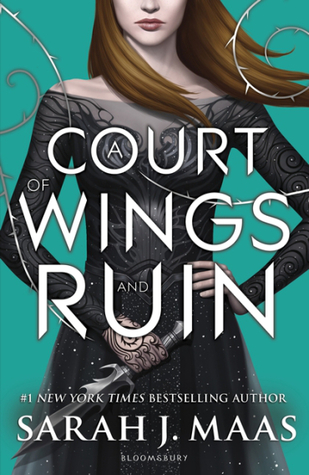 Summary: Feyre has returned to the Spring Court, determined to gather information on Tamlin's maneuverings and the invading king threatening to bring Prythian to its knees. But to do so she must play a deadly game of deceit-and one slip may spell doom not only for Feyre, but for her world as well.
As war bears down upon them all, Feyre must decide who to trust amongst the dazzling and lethal High Lords-and hunt for allies in unexpected places.
In this thrilling third book in the #1 New York Times bestselling series from Sarah J. Maas, the earth will be painted red as mighty armies grapple for power over the one thing that could destroy them all.
Add to Goodreads
U.K. – Waterstones / Amazon / Book Depository / Wordery
US – Amazon / Barnes and Noble / Target / Books a Million
Canada – Indigo
★★★★★ 4.5/5
I have no words to even try and use to explain how I'm feeling after finishing this book.
I laughed, I cried, I even wanted to throw the book at one point, and that's not a bad thing. Sarah's writing never ceases to amaze me, with every book in the A Court of Thorns and Roses series, (I'm yet to read the Throne of Glass Series, but it's on my list) she leaves me wanting more. Wanting more from the characters and the world she so beautifully crafts, a world I've just spent the last few days in and don't want to come out of just yet.
There's more character development, more reveals and plot twists, more from the other High Lords and their courts. Everything is described in such rich detail you don't realise just how immersed in the book you are until you have to begrudgingly put it down for something.
With this finely packed to the brim of a book, there's so much going on, so much to take in and find out. I spent most of the book on the edge of my seat, adrenaline pulsing like i was right there in the thick of it with them all.
A Court of Wings and Ruin was everything I wanted and more. Now to begin the wait until 2018 for the next book.
Did I like the book? Yes.
Did I love it? Yes.
Would I recommend it? Definitely! From start to finish it's a book you don't want to put down, but brace yourself for the end.