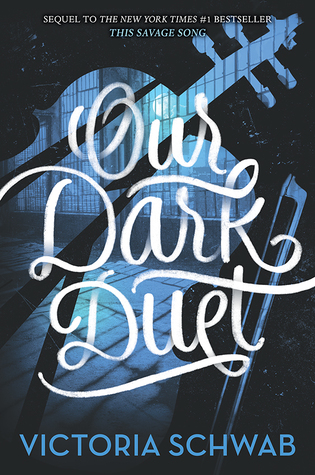 Summary: THE WORLD IS BREAKING. AND SO ARE THEY.
KATE HARKER isn't afraid of monsters. She hunts them. And she's good at it.
AUGUST FLYNN once yearned to be human. He has a part to play. And he will play it, no matter the cost.
THE WAR HAS BEGUN.
THE MONSTERS ARE WINNING.
Kate will have to return to Verity. August will have to let her back in. And a new monster is waiting—one that feeds on chaos and brings out its victims' inner demons.
Which will be harder to conquer: the monsters they face, or the monsters within?
Add to Goodreads
UK –  Waterstones /Amazon / Book Depository / Wordery
US – Amazon / Barnes and Noble / Walmart / Target / Books a Million
Cananda – Indigo
★★★★★ 4.5/5
Continuing six months on from This Savage Song, August Flynn and Kate Harker are still fighting the monsters that continue to plague their city. With August fighting the monsters Kate left behind in Verity, Kate has something new to fight in Prosperity, but when the new monster changes city, it brings the fight and Kate back to Verity, reminding her it's not just the monsters Kate ran from, it's the memories too.
With both of them changed since their last encounter, August and Kate try to reconnect whilst discovering what this new monster neither of them have seen or faced before is, and wants, even the monsters of Verity are confused by it, one in awe.
Still seen as on different sides except by each other, their fight isn't just with the monsters, but with the monsters inside themselves and what that darkness inside us all can do.
Our Dark Duet delivered not just a well thought out, perfectly done and justified ending, but from start to finish it flowed beautifully, never boring or stalling, always at a pace that has you devouring the story until it's finished, leaving you sated, if not a little sad it's finished. (It's not a well written and intriguing story if it doesn't leave you sad it's over, is it?)
I loved every second of it, unable to put it down for long. It's gotten me out what was becoming a severe reading slump and now I'm going to struggle to find something that will continue to keep me out of it like Schwab's writing does. She is easily up there with my favourites, in a well deserved place along with her books.
What made me love her and the book even more was the non binary character. Although secondary, it was nice to see and more than welcome. More are needed in literature, especially YA.
Did I like the book? Yes.
Did I love it? Yes.
Would I recommend it? Without any hesitation, yes. Read it. With its monsters and main characters, more than interesting story, the Monsters of Verity series is a series I can't recommend enough.