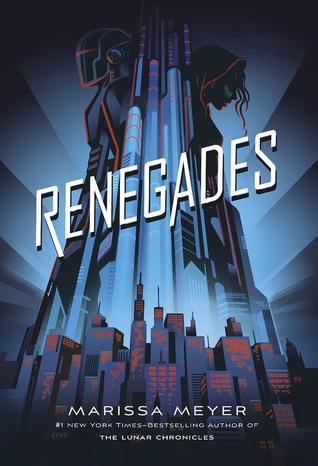 Summary: Secret Identities. Extraordinary Powers. She wants vengeance. He wants justice.
The Renegades are a syndicate of prodigies—humans with extraordinary abilities—who emerged from the ruins of a crumbled society and established peace and order where chaos reigned. As champions of justice, they remain a symbol of hope and courage to everyone…except the villains they once overthrew.
Nova has a reason to hate the Renegades, and she is on a mission for vengeance. As she gets closer to her target, she meets Adrian, a Renegade boy who believes in justice—and in Nova. But Nova's allegiance is to a villain who has the power to end them both.
Add to Goodreads
UK – Waterstones / Amazon / Wordery / Book Depository
US –  Amazon / Barnes and Noble / Target / Walmart / Books a Million
Canada – Indigo
A copy of this book was provided by the publisher via NetGalley in exchange for an honest review.
★★★★☆ 4/5
First, let me start off by saying I've not read Meyer's Lunar Chronicles series, it's on my iPad waiting to be read, I just haven't gotten around to it. (I live up to my name, I'll finally  get around to it, but not anytime soon unfortunately.) So this is my first book by Meyer, but having heard good things about the Lunar Chronicles I had high hopes for Renegades and dived straight in.
Who wouldn't? Look at that summary, sounds like X-Men, right? Which is what I kept comparing it to. If you've seen X-Men or read the comics, then you know what they're about, but for those who don't know, the X-Men are a group of people with powers ranging from strength to telekinesis to telepathy. They use their powers to help when they can as well as try and fight oppression from the humans against the mutants, and this is where the comparison comes into this.
The Renegades (superheroes), mostly made up of prodigies (people with abilities), are fighting the seemingly good fight against the Anarchists (also people with abilities but these guys are the bad guys and often called villains), who want to bring down the renegades and end the oppression of humans against prodigies.
Adrian is a Renegade, born into it.
Nova is an Anarchist, brought into it when she was just six.
When they meet both their worlds are forced to shift, giving them both new reasons to hate the Renegades and Anarchists, as well as a change in their perspectives on both sides.
Renegades is long but by no means boring, it takes a little while to get into and I saw a lot of the twists coming, but not in the way they were delivered. I enjoyed the story (I even bought a physical copy) and its set up for the next book,  (unsure if there's going to be a duology or trilogy), I'm hoping to see more from Adrian's Renegade team, Oscar, Danna and Ruby, as well as the Anarchists and whether Nova succeeds in what she sets out to do in this and if it's truly the best option for all involved.
Did I like the book? Yes
Did I love it? At first no, but once I got fully into it and used to the characters, yes.
Would I recommend it? Yes! Superheroes and villains, diverse characters, a good storyline with the potential to go even further.